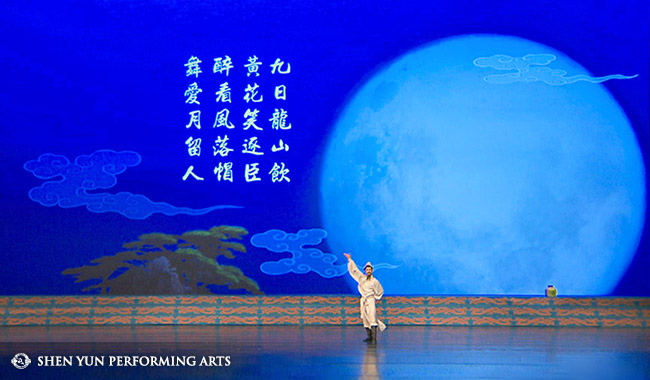 From Poetry to Dance
Did you know that in ancient China, music, dance, and poetry were an inseparable trio? Every dance was custom choreographed for a unique song and its lyrics. During both creation and performance, each element did her part to breathe life onto her sisters. The result was perfect harmony.
Finding ways to feel the feel
Every year during rehearsal season (roughly June to December), we spend six months learning and perfecting dances for the upcoming tour. Number one on the agenda is taking care of all choreography and synchronization. When that's all done, then comes the time to add the magical touch— the feel, or inner essence, of each piece.
For me, there are many ways to be inspired to dance a dance. Maybe it's a series of movements that I find very smooth or fun to do. Or maybe it's a melody so lovely that I find myself humming it out of the studio, into the shower, and all the way to bed.
Finally, there are times when a dance seems to be the perfect sister of a poem from Chinese antiquity. Then I know the connection, the feel, goes way beyond whim.
Poetry in Shen Yun
Actually, many Shen Yun dances were directly inspired by classic Chinese poems. The Loyalty of Yue Fei (a 2007 choreography) came from the Song Dynasty general's own work—the troubled yet tenacious "The River Runs Red"; the poem's lines were even incorporated in the backdrop image. Our 2009 Mulan Joins the Battle is a retelling of "The Ballad of Mulan," a poem dating back to the 6th century.
Time and again when I seemed bereft of a muse, I have looked to the ancient verses. And from them, discovered the very zeal, beauty, and character I'd been seeking.
'雲想衣裳花想容,春風拂檻露華濃'
To introduce the dance Ladies of the Tang Palace, our (non-Chinese) MCs recite a verse by the Tang Dynasty's most celebrated poet, perhaps China's greatest of all-time—Li Bai. Here's how I'd like to translate it:
Clouds echo her long flowing robes, and flowers her beauteous face,
Spring winds through the balcony blowing, all sparkling in dewy grace.
Whenever I hear these words echoing from in front of the curtain, as I stand waiting in my own flowing robes, instantly I'm whisked away. And I wonder—does the audience know that on the curtain's other side, someone's listening and imagining, too?

2014年11月6日