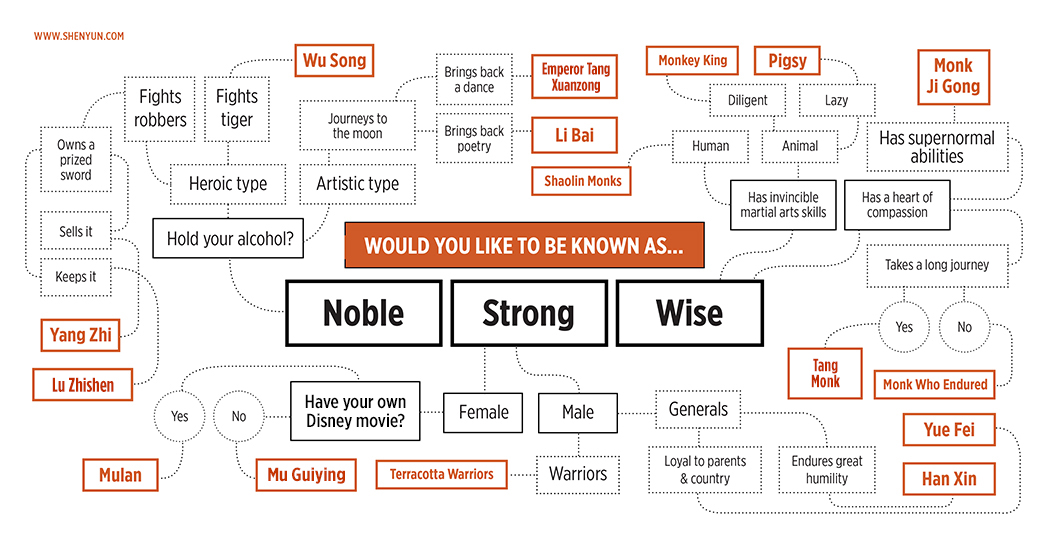 Which Classical Chinese Hero Would You Want To Be?
Drunk Monk Lu Zhishen – One more of the Outlaws of the Marsh heroes, this monk is good at being bad, and bad at being good.
Emperor Tang Xuanzong – Emperor by day and Taoist by night, he is known for journeying to the moon, bringing back from the Moon Palace a legendary dance and tune.
Han Xin – Brilliant military strategists of the Han dynasty who exercised great humility by crawling under a hoodlum's leg when he dared Han Xin to chop off his head.
Li Bai – Known as the "Immortal Poet," his prolific verse is the epitome of Tang dynasty literature. Known for writing transcendent poetry, often under the influence.
Monk Ji Gong – Often known for his eccentric behavior, Monk Ji Gong performs good deeds with his supernormal abilities under the guise of lunacy.
Mu Guiying – Talented she-warrior and tactician. She is a heroine from the Yang clan, a family whose female warriors famously defend the Middle Kingdom.
Mulan – Heroine turned Disney superstar who disguises herself as a man to go into battle in place of her ailing father.
Pigsy – Lazy and naughty, he was once a heavenly admiral banished to Earth after a flirtatious encounter with a goddess. But he repents and joins the journey westward.
Shaolin Monks – Known for their martial arts, these monks are trained at the Buddhist Shaolin Monastery when they are called upon to defend China's future emperor.
Tang Monk – He embarks on a dangerous journey across the mountains to the west, leading his three disciples in search of Buddhist scriptures.
Terracotta Warriors – An army of 8,000, with 800 accompanying horses and chariots, that guards Emperor Qin Shihuang, founder of China's first Qin dynasty, in his afterlife.
The Monkey King – A valiant but impetuous character from Journey to the West, he protects his master (Tang Monk) through 81 ordeals on their sacred pilgrimage.
The Monk Who Endured – An upright and magnanimous monk who endures years of humiliation after raising a couple's illegitimate child, whom people mistakenly thought was his.
Wu Song – This hero from Outlaws of the Marsh is known for his extraordinary martial arts skills and his capacity for liquor. He once protected villagers by fighting a ferocious tiger with his bare hands.
Yang Zhi – Another of the 108 heroes from Outlaws of the Marsh, "Blue-Faced Beast" Yang Zhi is protecting an expensive delivery when his path takes an unexpected turn. Fortunately, he has his prized sword.
Yue Fei – This general from the Song Dynasty is the symbol of loyalty, torn between defending his country and taking care of his mother.

Kelly Wen
Contributing writer
2013年10月30日