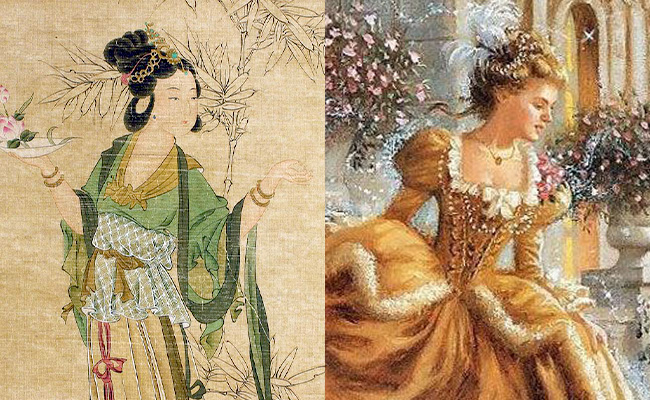 Parallel Figures BONUS: Ye Xian and Cinderella
In this series, we explored historical figures of both the East and West. As a fun wrap up, we've added a bonus pair—the only fictional one—and the likeliness is uncanny.
Did you know there is a Chinese Cinderella?
Long before mass communication, the Chinese fairy tale of Ye Xian emerged in 850, during the Tang Dynasty. The Cinderella version that comes most easily to people's minds emerged over eight centuries later, in 1697, and the Disney version in 1950. And the Amazon Prime one in 2021…
As far as we can tell, the earliest form of the Cinderella story, Rhodopis, emerged in Greece some time before or after 0 C.E. That rendition features a Greek slave girl marrying an Egyptian King, but here we'll primarily discuss the Chinese version as compared to the most recognizable Western Cinderella, the one based on the story published by the French Charles Perrault.
First, let's check off a few boxes:
• Ye Xian, as the beautiful young lady is named, is kindhearted and gentle.
• She is motherless.
• Her father dies and her cruel stepmother forces her into servitude.
• Her stepmother does everything in her power to make Ye Xian's life miserable.
Sound familiar?
Life is rough for Ye Xian, but she does have a chatty fish (as opposed to mice), which she adores. This fish is one of her only sources of joy. Every day when she goes out to see the fish, it excitedly swims to the surface to greet her.
But Ye Xian's jealous stepmother soon discovers it... Whenever the fish notices the stepmother drawing near, it quickly dives deep to avoid her murderous gaze.
One day, the stepmother dresses up as Ye Xian and imitates her voice to trick the fish into swimming to the surface. When the innocent fish does, it is met with the dagger-wielding evil stepmother. It is too late. The fish is cooked and eaten by Ye Xian's stepmother and stepsister, and its bones are buried.
When Ye Xian discovers the murder of her only companion, she breaks down crying.
Now, while Cinderella has a happy-go-lucky fairy godmother, Ye Xian has a bearded, robe-wearing Taoist fairy godfather. And it is at this moment that the godfather appears.
"Don't cry my child," he tells her. "I know where the fish bones are buried. Go dig them up, but keep them a secret. When you're in great need, you may pray to the bones for whatever you want. But remember, don't be greedy, or the divine will punish you."
The Slipper
A New Year festival is held for the townsfolk, and Ye Xian's excited stepsister plans to attend, hoping to find her future husband.
Ye Xian longs to attend too, but her stepmother forbids her from leaving the home. She fears that Ye Xian's beauty will outshine her stepsister at the festival.
Without a fancy dress, Ye Xian pulls out the old fish bones, and lo and behold, she's suddenly donning a magnificent silk gown and feathered cloak, and… a pair of shiny golden slippers.
Thanks to the magic fish wish bones and her guardian immortal, Ye Xian makes it to the festival, where she soon attracts a crowd. Festivalgoers are in awe of her beauty, angelic face, charming smile, and graceful gait.
Just as Ye Xian starts enjoying the attention, she's spotted by her stepsister.
"Look Mom!" the stepsister exclaims. "Isn't that my sister?!"
Hearing her stepsister shouting, Ye Xian takes off and a slipper falls off one of her dainty feet.
Fast-forward a little, and the slipper ends up in the hands of a young (and presumably charming) king. And the king really wants to find the slipper's owner.
He's so infatuated by the slipper that he issues a royal decree stating that he shall marry the foot that fits the slipper (as well as the rest of her).
Many maidens try their luck, but no match is found.
The king has his men search high and low, looking in every home across the kingdom for the other slipper. Finally, it is discovered in Ye Xian's drawer, alongside her dazzling gown.
Ye Xian is brought before the king, who is instantly transfixed. She slides her foot into the slipper—it's a perfect fit.
The king and Ye Xian are married as soon as the wedding can be arranged. Ye Xian is freed from her cruel stepmother and stepsister, and lives happily ever after with the king.
Ye Xian, whose heart is as beautiful as her face, forgives her stepmother and stepsister. Despite all that she had endured living with them—humiliation, abuse, and cruelty, she harbored no resentment. Perhaps that was one of the secrets of her charm.
As with Cinderella, there are other variations of this story, although this is the most common one.
The Greek version of Cinderella features a pair of sandals, as does the Iraqi version, but the Chinese and French versions both feature slippers, golden and glass, respectively. So do the Russian, Vietnamese, Tibetan, and Thai renderings.
In spite of some cultural differences—for example, reincarnation features prominently in Asian versions, the prevailing morals of these stories, East and West, are kindness and forgiveness. Forgiveness to the wrongdoers who act out of jealousy and spite, and holding fast to the kindness in one's heart, even when it seems all hope is lost.
And the concept of "a Cinderella story"—a good person running into bad luck, suffering injustice and hardship, and eventually, through perseverance and faith, finding redemption and happiness is still today one of the most enduring and endearing plotlines.

Leeshai Lemish
Master of Ceremonies